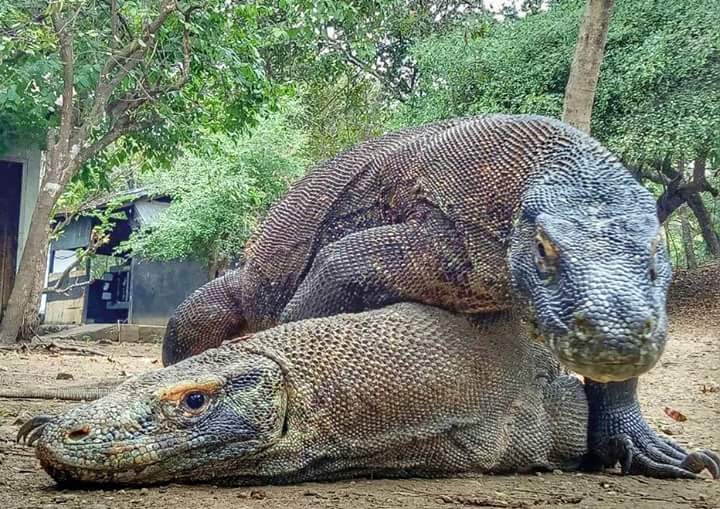 FLOFRES NATURE,CULTURE AND DRAGON

DURATION : 16DAYS/15 NIGHTS

This 16 days trip combines a total package in offering the best of nature, culture and of course, the
Komodo Dragons. As opposed to a trekking tour, this trip provides a more leisurely approach to the
islands and lets you experience how wonderful the people are and where they live. If you have the
time, this will offer you the maximum in discovering wonderful Flores!

Day 1. Denpasar – Maumere – Moni ( L,D)

Upon arrival at the Frans Seda Airport in Maumere in East Flores, you will be met by our guide and Drive to Moni Village will takes about 3 haours,we do some stops fotograph very nice view Landscape,Dinner and overnight at Kelimutu Ecolodge.

Accomodation : Kelimutu Ecolodge

Day 2. Moni – kelimutu – jopu village ( B,L,D)

We start early in the morning at 4:30 or After having breakfast at the hotel to drive/hike up and experience sunrise at the top of Mt. Kelimutu where exists three exquisitely colored lakes that consistently change color over time. This is truly one of the most spectacular and mysterious sights in Indonesia. We return Back to moni than visit Jopu village and Ranggase  for Ikat wieving of Ende Lio people,Lunch at locla restorant.in the afternoon visit small waterfalls near Moni Village.Dinner at Local Restorant and Stay at Kelimutu Ecolodge.

Accomodation :  Kelimutu Ecolodge

Day 3. Moni – Ende ( B,L,D)

After breakfast at Hotel,we continue your trip to Ende and on the way we visit Saga village, which is a traditional village of the Ende Lio tribes. We will lunch at restaurant in Ende in the afternoon visit Wolotopo Village Ende Lio peopl and beautiful ikat,Dinner and overnight at Grand wisata.

Accomodation : Grand Wisata.

Day4. Ende – Riung ( B,L,D)

After breakfast at hotel,Stop at Blue Stone Beach At Penggajawa,before driving along the coast and up to Bajawa sitting higher in the mountains. We will arrive at our local destination for the night and have dinner in Nirwana Riung.

Accomodation : Delma'r 

Day 5. Riung Marine Park ( B,L,D)

After breakfast we set out to do some island hopping around the 17 islands of Riung, which is a chain of large and small islands called Pau, Borong, Ontoloe, Dua, Kolong, Lainjawa, Besar, Halima, Patta, Rutong, Meja, Bampa (Tampa or Tembang island), Tiga (Panjang), Tembaga, Taor, Sui, and Wire. All the islands are uninhabited and their coastlines are pure white sand beaches. We will get to witness the flying foxes at Ontoloe Island along with enjoying a swim, snorkel and relaxation on the white sand beach. A very relaxing, pleasurable day of peacefulness at these Tiga and Rutong Islands. 

Accomodation : delma'r

Day 6. Riung – Bajawa (.B,L.D)

In the morning after breakfast, you will experience the drive from sea to mountains as we drive up to Bajawa, a small town located 1200m above sea level and indulge your senses with wonderful scenery along the way. We enjoy some of the local area, such as taking a warm bath at the hot springs in Soa before going on the Bajawa city tour in the afternoon. Stay overnight in Happy-Manulalu Villa.

Accomodation : Manulalu Villa.

Day 7. Bajawa and surrounding ( B,L,D)

We wake in the early morning at 5 am to drive up to Wawo Muda volcano. Once there we will continue our trekking with a 1.5 hour hike up to the top that offers fantastic views of the island and other cone-shaped volcanoes in the distance. Along the way, you will also experience some of the local villagers as they go about their daily activity. Once back to your hotel, we will spend the afternoon visiting Soa hot springs for a much needed soak. Dinner and overnight at Villa Sylverin.

Accomodation : Manulalu Villa .

Day 8. Bajawa – Ruteng ( B,L,D)

Your first visit after breakfast is to a unique local village, Bena, an ancient Ngadanese village that takes 1.5 hours by car to reach from Bajawa. We can see and appreciate the unique way of life, the traditional houses, and the ceremonies that are steeped in a long-preserved tradition. Here, time still stands still with the locals still practicing some of the pagan beliefs they have held on to for many generations. After visiting, we continue our drive to Aimere,famous for its arak, which is the local palm wine distillation, and do a short trek along the rainforest trail of Ranamese's crater lake. Stay overnight at Spring hotel.

Accomodation: Spring Hill

Day 9. Ruteng – Todo – Narang – Dintor – Denge.(B,L,D)

After early breakfast we depart from Ruteng to discover the southern part of the Manggarai region of Flores. Our first visit is to Golo Cara village where we can best see unique and spectacular 'spider web' rice fields that have been growing for generations. From there, we continue our drive to Todo, a traditional village where we will do some soft trekking through rice terraces and enjoy the beautiful landscapes near Narang Village. Lunch will be provided at a local families house in Narang. In the afternoon, we continue our drive along the south coast to Dintor and Denge with stops along the way as need to soak in the Flores environment. You will have dinner and stay overnight at a family's house in Denge.

Accomodation : Marten Waerebo Lodge.

Day 10. Denge – Wae Rebo Village ( B,L,D)

After a light breakfast, we trek to the remote village of Wae Rebo which takes around four hours. These authentic Manggarai houses are located about 1100m above sea level in the middle of the mountainous terrain. There are seven traditional houses all built in the same form with six of them for the local people and the extra house for the visitors. Still untouched, all the houses are still very traditional with 5-story high roofs that house the storage of goods in the top four floors with all the living areas on the bottom floor. Here you have the chance to reach out with these people and experience how they experience their culture, life and activities. This is a unique opportunity to realize how remote cultures live in the ways of the past and gain an acceptance of who these people are. We will have dinner and stay the night here as they provide sleeping mattresses. Overnight will be at the elderly Florenese women's home which houses up to 8 families.

Accomodation : Waerebo Lodge

Day 11. Wae Rebo – Denge – Dintor – Labuan Bajo(B,L,D)

After enjoying the local breakfast, we trek down to Denge Village through the lush rainforest and villages to where lunch will be provided. After lunch, we drive on to Labuan Bajo via Dintor and Nangalili (depending on the road condition; alternatively take the route through Todo Village to Labuanbajo). Along the way you will experience more of the remote and traditional ways of these cultures in Flores. You will have dinner and stay overnight at  Domanik:

 Accommodatio: Villa Domanik

Day12. Labuanbajo and Sarrounding ( B,L,D)

Breakfast in the hotel,We take a excursions Visit Stone Mirror Cave ( Gua Batu Cermin) where you can enjoy the Stalagmid and Stalagtid, cyristal Color Rock and some Marine Fossil,Than continue to visit Traditional Market and Puncak Amelia For View point,Lunch at Local Restorant.After Lunch you have time to visit fish Market in Labuanbajo. Back to hotel for Dinner and overnight

Accomodation : Villa Domanik

Day 13: Labuan Bajo – Rinca Island – Pimpe Island – Kalong( B,L,D)

Meeting point in our office in Labuan Bajo, then we will transfer you to the harbour for heading to Rinca Island. Takes approximately 2 hours with our local wooden boat. On arrival in Rinca island we will do trekking to hunt the dragon by your camera. Beside that we will see also the others wild animals such as: timor deer, buffalo, monkey, snake, etc. After trekking we will continue to Pimpe Island for your first snorkeling and relaxing in the beach. In the afternoon we will take you to Kalong Island to see the flying foxes that come out from the mangrove while see the sunset as well. Overnight and dinner at Kalong Island

Accomodation : Private Ac Boat Cabin.

Day 14: Padar Island – Komodo Island – Gili lawa Darat  Island(B,L,D)

Leave Kalong Island in the morning around 06.00am and heading to Padar Island. On your arrival in Padar Island you will be walk up to the top point of this island. From the top of Padar Island you will see an amazing view of Padar Island and surroundings. After trekking we will take you to the beach of Padar just for relaxing and swimming. Continue trip to Komodo Island we will take you to Loh Liang as the main gate way to enter Komodo Island. Morning trekking that start at 07.00 am here is the best option to see Komodo Dragon in open area, Beside seeing the dragon you may also find some wild animals such as: Deer, birds, wild boar, etc. Than to Pink Beach, and on arrival in Pink Beach you will do snorkeling and relax in the beach. In the afternoon heading to Gili Lawa Darat  for dinner and overnight.

Day 15: Gili Lawa Darat  Island – Manta Point – Kanawa Island – Bidaradari – Labuanbajo ( B,L,D)

Morning take sort trek In Gili Lawa Darat up to Look out point for sunrise, After trekking we will take you to the next destination namely: Manta Point as known as Makassar Reefs. In this place you will do snorkeling and getting closer with Manta Ray. After snorkeling here we'll continue our trip to Kanawa Island for last snorkeling, Shallow and clean water will serve and support your activity here and onward to Bidadari for the last snorkel and swimming,After that Return to Labuan Bajo around 04.30pm

Day 16. Labuanbajo – Denpasar ( B)

After breakfast, Free program than Transfer to Komodo Airport Of Labuanbajo For The Next Destination.



END SERVICES

Price Include:

Accommodation


Meals during the trip.


English/German speaking guide


Boat as per itinerary


AC coach Transfers


Soft drinks

Price does not include:

Flight from/to Denpasar by Garuda Indonesia, Wings or Lion Air and Nam Air.


Approx. roundtrip ticket price: USD 240


Airport tax Denpasar IDR 40.000 Labuanbajo IDR 11.000


Camera charge at Komodo Park: IDR 50.000


Masker and fins rental for snorkeling


Porter fee, personal expenses and Tipping

What to bring:

Dress is casual. Clothing should be light, preferably cotton with at least one long sleeved shirt and pants.


Bathing suit, thongs or sandals and sneakers or walking boots, lots of film, camera, replacement batteries, and spares. Bring one light sweater or jacket as it can get cool in the highlands.


Also bring sun-screen, insect repellent, sunglasses, sunhat and swimwear.
Tour Program: Flores island and komodo adventures 16D/15N