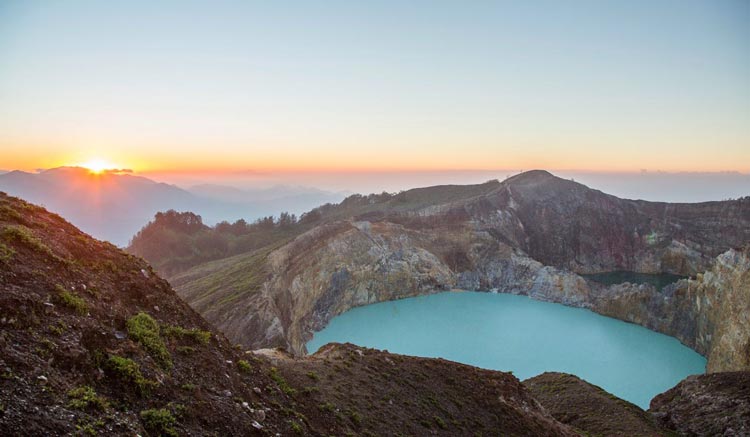 Duration : 10 days/9Nights
Price In Usd :
Minimum : 2 Person
A totally different experience that is truly made for nature lovers is this tip to explore the amazing rainforests of Flores with its unique flora, fauna and amazing geology. Besides the sheer beauty of nature, you can discover two different amazing worlds of Flores, such as: 1) the spectacular volcanic crater lakes of Sano Nggoang (one of the world's deepest volcanic crater lakes) and the three colored lakes of Mt. Kelimutu, and 2) the rich and traditional remote cultures of Flores still practicing the rituals of generations past. These areas are certainly off the beaten path, but offer such rewards for those who want to experience this rugged adventure.
Day 01 Labuan Bajo – Mbeliling – Sano Ngoang
After arriving in Labuan Bajo, we depart from either your hotel or boat (should you decide to take in Komodo first) by car to Roe village, which is about 21 km. We visit the Waerebo Traditional Village in the province of Manggarai, Flores. We then start here for your 3 hour trekking up through the dense Mbeliling forest and on to Werang. On the way you can see Flores endemic birds, such as the Hanging-parrot, Loriculus Flosculus, Flores Crow Corvus Florensis and many other birds making it a bird-watchers delight! As we explore the pure, native rainforest, we will have contact with many of the local people and enjoy your time by relaxing at Cunca Rami Waterfall. Lunch will be provided by local people in Werang, followed by an afternoon drive to Sano Nggoang Crater. This area consists of slopes and flat ridges which are formed by volcanic activity resulting in a crater lake in the active volcanic mountain of Wae Sano. Dinner and Overnight at local family house.
Day 02 Sano Nggoang – Tado
After breakfast, you start the new day by walking around the deep crater lake of Sano Nggoang, feeling close with nature and local people as you go. Once back, we take on an afternoon drive to the Tado community, which is truly a eco-tourism based adventure. Here you can participate with eco-tourism activities by keeping in touch with the local people, joining their activities or requesting certain rituals and programs, such as ancient rituals, jungle survival programs and/or traditional artistry and crafts. We continue the day be arriving at the amazing spider web rice field's of Lingko, Cara Cancar, Flores. We spend overnight at local family house.
Day 03 Tado – Denge Village
After breakfast we drive on to discover the unique southern part of Manggarai with the surrounding landscapes and villages alongside the road. As we drive through the southern coastal community of Nangalili or Dintor, we can relax and swim before driving up to Denge. We can make several stops along the way to view the stunning countryside and rice fields. Dinner and overnight at family house in Denge.
Day 04 Denge Village - Wae Rebo Village
After a light breakfast, we start your 4 hours tracking to the amazing Wae Rebo village, which is a classic representation of authentic housing in the Manggarai province located about 1000m above sea level in the middle of a remote mountain range. Still untouched, all the houses are still very traditional with 5-story high roofs that house the storage of goods in the top four floors with all the living areas on the bottom floor. Here you have the chance to reach out with these people and experience how they experience their culture, life and activities. This is a unique opportunity to realize how remote cultures live in the ways of the past and gain an acceptance of who these people are. We will have dinner and stay the night here as they provide sleeping mattresses. Overnight will be at the elderly Florenese women's home which houses up to 8 families.
Day 05 Wae Rebo Village – Ruteng
After the local breakfast, we get on our walking shoes and trek down to Denge village throughout the morning. After enjoying the rain-forest and local scenery, we will have lunch in Denge. After lunch we will drive up to Ruteng with several stops along the way, such as in Narang where they have spectacular rice terraces and beautiful scenery. Dinner and Overnight at MBC Susteran in Ruteng.
Day 06 Ruteng – Bajawa
After breakfast departure from your Ruteng hotel we will visit Golo Curu with its stunning scenery and the mountains of Mandosawu. Along the north side of the city is eye-catching panorama of more spider rice fields strung along the base of the mountains. We return shortly back to Ruteng and visit the traditional village of Ruteng Puu before you leave for Bajawa. On the way, we will stop at a variety of places in the mountains and along the southern coast of Flores, including Rana Mese Lake and Aimere, where it famous for its "sopi/ moke" distillation and fresh palm juice tapping. Prior to arriving at our hotel in the afternoon, we will take a soothing bath at Soa Hotsprings and experience some of the local life in this area such as at the ancient village of Ngada. Dinner and overnight at Villa Sylverin or Happy Happy Hotel.
Day 07 Bajawa and surrounding area
We awake in the early morning at 5 am to drive up to Wawo Muda volcano. Once there we will continue our trekking with a 1.5 hour hike up to the top that offers fantastic views of the island and other cone-shaped volcanoes in the distance. Along the way, you will also experience some of the local villagers as they go about their daily activity. Once back to your hotel, we will spend the afternoon visiting Soa hot springs for a much needed soak. Dinner and overnight at Villa Sylverin or Happy Happy Hotel.
Day 08 Bajawa – Moni
After breakfast, we continue on our way to see the unique culture and way of life at the Luba and Bena traditional villages sitting under a truly cone-shaped volcano. You will experience this rare form of Pagan and Catholic practices in villages that are still standing the tests of time. In addition, you will meet wonderful local people and understand how they perform their daily lives in a different way. We then continue on to Pengga Jawa along the southern coast to see the unique blue stones scattered naturally on the beach. After lunch in Ende, we will visit a local market filled with food, goods and unique people who come to sell their local wares. This is a wonderful opportunity to experience the local life. We then drive to Detusoko where we will experience dramatic country side full of mountains and rice fields. Dinner and overnight at Moni Kelimutu Eco Lodge Hotel.
Day 09 Moni Kelimutu – Maumere
We arise early in the morning at 4.30 to drive/hike up and experience sunrise at the top of Mt. Kelimutu where exists three exquisitely colored lakes that consistently change color over time. This is truly one of the most spectacular and mysterious sights in Indonesia. We return through winding roads along the mountain side to your hotel for breakfast. We continue on with a visit to a Wolowaru traditional village and proceed to Paga Beach and the town of Maumere. Dinner and overnight at Sea World Club in Maumere.
Day 10 Maumere – Denpasar
Morning free program before transfer to Frans Seda airport for the flight back to Denpasar. The Sea World Club sits on a lovely beach that allows for a nice morning walk ahead of time to soak the trip in!
price included :
Accommodation
Meals during the trip.
English/German speaking guide
Boat as per itinerary
AC coach Transfers
Soft drinks
Price does not Include :
Flight from/to Denpasar by Garuda Indonesi ,Nam Air or Lion Air.
Approx. roundtrip ticket price: USD 240
Airport tax Denpasar IDR 40.000 Labuanbajo IDR 11.000
Masker and fins rental for snorkeling
Porter fee, personal expenses and Tipping
What To Bring :
Dress is casual. Clothing should be light, preferably cotton with at least one long sleeved shirt and pants.
Bathing suit, thongs or sandals and sneakers or walking boots, lots of film, camera, replacement batteries, and spares. Bring one light sweater or jacket as it can get cool in the highlands.
Also bring sun-screen, insect repellent, sunglasses, sunhat and swimwear.
Tour Program: Flores Rainforest Adventure 10D/11N