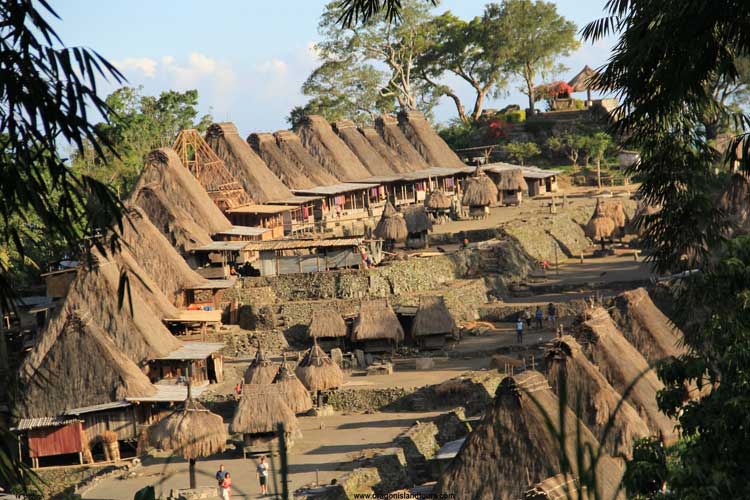 Komodo Flores Experience Tours
Duration : 6D/5N
Price in Usd :
Trip Type : Wildlife Komodo dragon an Culture
If limited in time and want to see the highlights of Flores and the surrounds, this is the trip. In addition to experiencing the thrills of seeing the Komodo Dragons, this trip also spends several days touring a relatively unknown part of the world called Flores Island that is full of beauty and adventure. You will experience walking back in time through some of the traditional villages that still practice pagan rituals and belief, see the majestic beauty of towering volcanoes with the unique spider like webbed rice fields, meet the unique people of Flores with their way of life and climb for a visit to the unique lakes of Kelimutu. A true adventure!
D01 Denpasar – Labuan Bajo-Rinca Island.
Arrival at Komodo Airport in Labuan Bajo in west Flores, where you will meet our guide and transfer to the pier at Labuan Bajo for boarding our house boat. Lunch on board as we sail about 2 hours to the islands of Komodo and Rinca. We will conduct treks on Komodo and Rinca Islands starting from the wharf and it takes approx. 2 hours per trek. These treks provide the best opportunity to see the dragons and their prey as we pass along dragon nests and out into the sunshine across an exposed savannah that is studded with Lontar Palms. We will also pass a permanent waterhole in Waewaso and across steep, exposed slopes that offer breathtaking views of the islands. Additional local guides are provided to maximize our chances of meeting the Komodo Dragons and to ensure the safety of all travelers. We will have an excellent local dinner prior to overnight on the boat.
D02 Rinca – Bidadari island – Labuan Bajo – Ruteng
After an enjoying morning breakfast on the boat, we set sail to Bidadari Island for some relaxing, swimming and snorkeling. We will then have lunch on the way back to Labuan Bajo and enjoy the beautiful surrounding coastline as we arrive about 1.5 hours later. We continue the trip by AC-coach from Luang Bajo to Ruteng where we spend the night. We can stop and see the many vistas and sights along the way, such as a visit to Golo Cara to see the spectacular, unique circular rice fields arranged like a spider web. (Lingko/ Lodok). Also, we will stop by a Bena traditional megalithic village in Ngada, Flores before heading to your stay in the charming town of Ruteng sitting high in the mountains. Dinner and overnight at the MBC Susteran in Ruteng.
D03 Ruteng – Bajawa
After breakfast departure from your Ruteng hotel we will visit Golo Curu with its stunning scenery and the mountains of Mandosawu. Along the north side of the city is eye-catching panorama of more spider rice fields strung along the base of the mountains. We return shortly back to Ruteng and visit the traditional village of Ruteng Puu before you leave for Bajawa. On the way, we will stop at a variety of places in the mountains and along the southern coast of Flores, including Rana Mese Lake and Aimere, where it famous for its "sopi/ moke" distillation and fresh palm juice tapping. Prior to arriving at our hotel in the afternoon, we will take a soothing bath at Soa Hotsprings and experience some of the local life in this area. Dinner and overnight at Villa Sylverin or Happy Happy Hotel.
D04 Bajawa – Ende – Moni Kelimutu Colored Lakes
After breakfast, we continue on our way to see the unique culture and way of life at the Luba and Bena traditional villages sitting under a truly cone-shaped volcano. You will experience this rare form of Pagan and Catholic practices in villages that are still standing the tests of time. In addition, you will meet wonderful local people and understand how they perform their daily lives in a different way. We then continue on to Pengga Jawa along the southern coast to see the unique blue stones scattered naturally on the beach. After lunch in Ende, we will visit a local market filled with food, goods and unique people who come to sell their local wares. This is a wonderful opportunity to experience the local life. We then drive to Detusoko where we will experience dramatic country side full of mountains and rice fields. Dinner and overnight at Moni Kelimutu Eco Lodge Hotel.
D05 Moni Kelimutu – Maumere
We arise early in the morning at 4.30 to drive/hike up and experience sunrise at the top of Mt. Kelimutu where exists three exquisitely colored lakes that consistently change color over time. This is truly one of the most spectacular and mysterious sights in Indonesia. We return through winding roads along the mountain side to your hotel for breakfast. We continue on with a visit to a Wolowaru traditional village and proceed to Paga Beach and the town of Maumere. Dinner and overnight at Sea World Club in Maumere.
D06 Maumere – Denpasar
Morning free program before transfer to Frans Seda airport for the flight back to Denpasar.
Price Included :
Accommodation
Meals during the trip.
English/German speaking guide
Boat as per itinerary
AC coach Transfers
Price does not Include
Flight from/to Denpasar by Avia star, Merpati, Sky Aviation or Lion Air.
Approx. roundtrip ticket price: USD 240
Airport tax Denpasar IDR 40.000 Labuanbajo IDR 11.000
Camera charge at Komodo Park: IDR 50.000
Masker and fins rental for snorkeling
Tour Program: Komodo Flores Experience Tour (6D/5N)