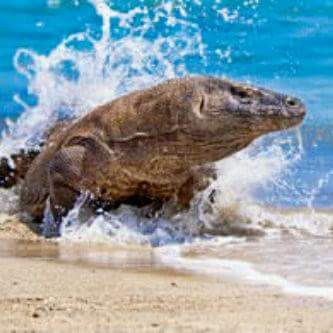 THE MOST RECOMMENDED
KOMODO DRAGON ADVENTURE WITH PINK BEACH ( CRUISE SHIP)
TOUR CODE : DIT 002
LOCATION : KOMODO ISLAND
DURATION : 4 - 5 HOURS
PRICE USD :
The main attraction here is the Komodo Dragon, although you are likely also see Timor Deer, wild pigs and numeriuos of Birds.there are also fascinating andemic speacies of plants and trees found only in this region.
Board your tender and head over to komodo national park,a UNESCO world heritage site, Man and Biosphere Reserve and New 7 Wonders of Nature.At the park ranger who'll be met by a friendly guide and a park ranger who'll lead you to the viewing point of theworld's largest lizard on an approximately 60 minute walking expedition through Komodo National Park.Have your camera ready,a komodo dragon or two may make an appearance.measuring 10 feet long and weighing up to 300 pounds,The sight of this mighty creature will leave alasting impression.But the park also known for its marine habitat.1.000 species of fish,260 species of coral reefs,mangroves,sea grass beds, and semi – enclosed Bays.To experience this undersea phenomenon for youself you'll head to PINK BEACH for swimming and snokeling ( gear is provided). Then, you"ll return to your Ship.
PHOTOGRAPHY
Have your camera Ready,a Komodo dragon or two may make an appearance
REFRESHMENTS
The main attraction here is the Komodo Dragon,although you are likely to also see Rusa (Timor) Deer, Will pigs.There are also fascinating andemic species of plants and trees found only in this region And undersea coral Reef.
Highlights
Cruise to the wildlife island of Komodo​
Meet park ranger for a close encounter with the legendary Komodo Dragon
learn about theses endangered Lizards
Discover pink beach, one of the most celebrate destination in Komodo national park
Snorkel in the teeming marine life,or unwind,bask and relas on a pink sand beach
What to bring
Camera
sun protection
Cash
Towel
What to wear
Walking shoes
Hat and sunglasses
Swimsuit under cover - up or light clothing.
Tour Program: Komodo dragon with pink beach