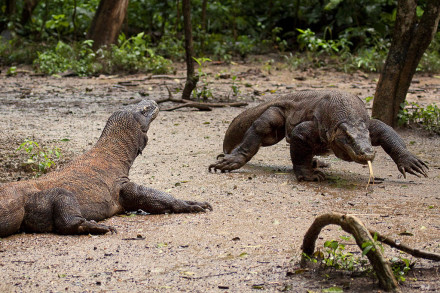 If you have a little more additional time while in Bali and would like to experience the unique face-to-face meeting with the largest lizard in the world, this trip will allow you sufficient time to fully realize the Komodo Dragon. By having extensive time on the only two islands in the world that have these magnificent creatures, you can enjoy the wildlife and relaxation along the beaches of these islands.
KOMODO ADVENTURES TOURS 3D/2N
Itinerary :
Day 1 : Lanbuan Bajo – Manjarite- Rinca Island – Padar – Kalong Komodo (L,D)
Pick Up service at Your hotel /Airport at Labuan Bajo at 08.00 am, or if you take morning
flight from Bali to Labuan Bajo, we will pick you up at Komodo airport but please make sure
you will take morning flight.Transfer by car to Labuan Bajo harbor which take about 15 – 30
minutes drive.Sailing to Menjerite with local wooden boat that will take about 1 hour 15
minutesSnorkeling at Menjerite.After snorkeling we will be heading to Rinca Island which is
Take approximately 2 hours by local wooden boat.On arrival at Rinca island we will do
trekking to see komodo dragon which is about 2 hours. Beside that we will see also the others
wild animals such as: timor deer, buffalo, monkey, snake, etc. Return to boat and continue
heading to Padar Island for afternoon trekking. Lunch will be served on the Boat. On arrival
at Padar Island you will be walk up to the top point of this Iisland. From the top of Padar
Island you will see an amazing view of Padar Island and enjoy the beautiful sunset from the
Top of Padar. After trekking, in the afternoon we will heading to Kalong Island for
anchoring. Dinner and overnight (sleep on boat) at Kalong Komodo.
Day 2 :Kalong - Komodo Island – Pink Beach – Manta Point- Kanawa- Bidadari
(B/L/D)
Early Morning, boat is moving slowly sailing to Komodo Island. See beautiful sunrise by the
sea and having breakfast.In this Island we also can do trekking and see Komodo dragons and
wild animals. Then our journey continue to Pink Beach one of the famous tourist destination
at Komodo National Park. Amazing underwater life and stunning panorama surrounding area.
After snorkeling at Pink Beach, back to the Boat and having Lunch on the boat while heading
to the next destination namely: Manta Point as known as Makassar Reefs. In this place you
will do last snorkeling and getting closer with Manta Rays. After do some water activity we
continue our journey to Kanawa for last snorkeling. Shallow and clean water will serve and
support your activity here. After snorkeling, back to the boat and heading to Bidadari Island
for anchoring. Having dinner and overnight on the Boat at Bidadari Island.
Day3 : Bidadari- Labuan Bajo (B)
Having breakfast on the boat. Do last snorkeling at Bidadai Island to see the beautiful
underwater scenery and do some beach activities around the Island. After snoerkeling, back
to the boat and continue for sailing back to Labuan Bajo. Having lunch on the Boat. Arrived
at the port of Labuan Bajo, then our team will transfer you to the airport for the next flight.
Price Included:
Private AC Boat Chartered
Meals
English speaking Guide
Park Rangers
Ac Transport
Snorkeling Equipment
Entrance fee and Donation
price Excludes:
Flight tickets
Alkohol drinks
Tip
Tour Program: komodo adventures tours 3D/2N