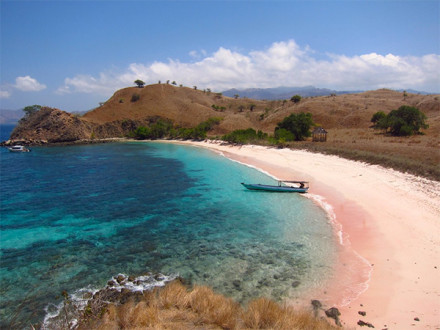 This tour is a unique way of experiencing the awesome feeling of encountering the Komodo Dragon and relaxing along the peaceful beaches and oceans of a truly remote area of the world. Life cannot get sweeter than this!
KOMODO LIVE - ABOARD
Tour Itinerary
Day 1: Labuan Bajo-Kelor Island-Rinca-Fox Island
Our Guide pick you up at komodo airport . The guide will accompany during your tour. Then, you catch harbor. In the way to the harbor, you are going to take picture at Waringin Hill to see and take picture of Labuanbajo Harbor and seascape View. on arrival on harbor you sail to Kelor Island through wooden boat. Your lunch provided in the boat. From the harbor to Kelor Island it takes 45 minutes to 1 hour on boat. On arrival at Kelor Island you going to swim and snorkeling around the Island. You will enjoy beautiful coral, colorful fishes as well sunbath on the beautiful white sandstone. Your spend one hour here (it's flexible). After enjoying the Kelor Island you will sail to Rinca Island. it spends one and half hour from Kelor to Rinca Island. Naturalist Guide bring you during the trekking and hiking on the wild forest to see the wild life. The wildlife in this island is still endemic. In this island you are going to see the Dragon which unique characteristics. Not only Komodo exist in the island, but also you will see long tail endemic monkey, Timor Deer, Water Buffalo, Endemic plants. During the hiking and trekking you will enjoy the sounds birds while you see the attraction of Komodo Dragon and the others Animal. This island is very good for photo spot. Beside you take picture of Komodo dragon itself, you will take pictures of landscape and seascape on the top of hill. After you finish the trekking, you will sail back to Fox Island. On the way to fox island you will enjoy the sunset. At Fox Island you will watching amazing attraction of thousands fruit baths (Fox) which flying from their mangroves nest to find the foods to another island in the afternoon. Your dinner will be prepared on the boat and you are overnight in the boat.
Day 2: Fox Island-Padar-Komodo-Pink Beach-Kalong
In the early morning you wake up , you enjoy sunrise and and breakfast on the wooden boat during sailing to Padar Island . Then. It takes two hour from fox island to Padar Island. On arrival at Padar island you will Hike more less 40 minutes to get top of the Padar island. On the top of Padar Island you see beautiful lands cape and bay of Padar Island. Its marvelous island for Photo Spot. You can spend time more than one hours in this island.
After you enjoying marvelous view of padar island, then you sail to visit Main Island of Komodo Dragon in Komodo Island it takes time more less one and a half hour to the island. On Arrival at Komodo Island, Naturalist Guide will guide you during trekking and hiking at the island. You will going to see Komodo Dragon which nominated animal of one of the new seven wonders of the nature in the world. Not only Komodo that you see in the Island but also you see Cockatoo birds, Deer, wild boar, wild chicken, wild orchid and birds as wellas varieties of plants. On the top of Sulpurea Hill you take picture of landscpape and seas cape of the Island.
Visiting huge of Komodo Island is over, then you sail back to wonderful of Pink Beach. It takes thirty minutes to the beach. Pink Beach is best one of best spot for snorkeling or swimming In Komodo National Park which is shallow, pure and clean water, rich of coral reefs, as well as kinds of colorful fishes. on the beach you enjoy marvelous Pink Sandstone which is clean and beautiful.After enjoy at the Pink Beach you sail to Kalong Komodo for sunsets and overnight on the boat
Day 3: kalong-Manta Ray Point-Taka Makassar-Kanawa Island
In the morning, you sail to Manta Ray Point which takes more than one hour from Kalong Komodo. On arrival at Manta Point you do snorkeling to see manta Ray around the boat. After you do snorkeling at The Manta Ray Point then you sail to Taka Makasar. You will enjoy Very small Island which covered by pure water,colorful fishes and beautiful coral reef. Afterwards, sailing to Kanawa Island. On arrival at the Island enjoy the pure white sandstone of beach and snorkeling. your snokeling covered by many kinds of fishes and rich of coral reefs as well very beautiful beach beach view. After do snorkeling you get the boat in the afternoon then you enjoy sunset from the wooden boat. You are over nigth around the island on the boat.
Day 4: Kanawa-Bidadari-Labuan Bajo
In the morning you wake from sleep, you enjoy sunset and get breakfast, afterwards, you sail to Bidadari Island. It takes one hours to the island. On arrival at Bidadari Island You will do snorkeling and enjoy the white beach, beatifull beach view You spend many hours here, before you sail back to labuan bajo as starting tour point.Bidadari is the last place for your tour. Then, you sail to Labuan Bajo. Your guide accompany you to your hotel or airport
Price included:
Whole entrance fee
Whole ranger fee
English speaking Guide
Ac car
Wooden boat
Breakfast, lunch, dinner
Mineral water
'Price Exluded:
Life Insurance
Porter fee at airport
soft drinks
alcohol drinks
Flight ticket
tipping
What to bring:
Sun lotion
mosquito repellent
hat
sun glasses
Tour Program: Komodo Live-aboard 4D/3N